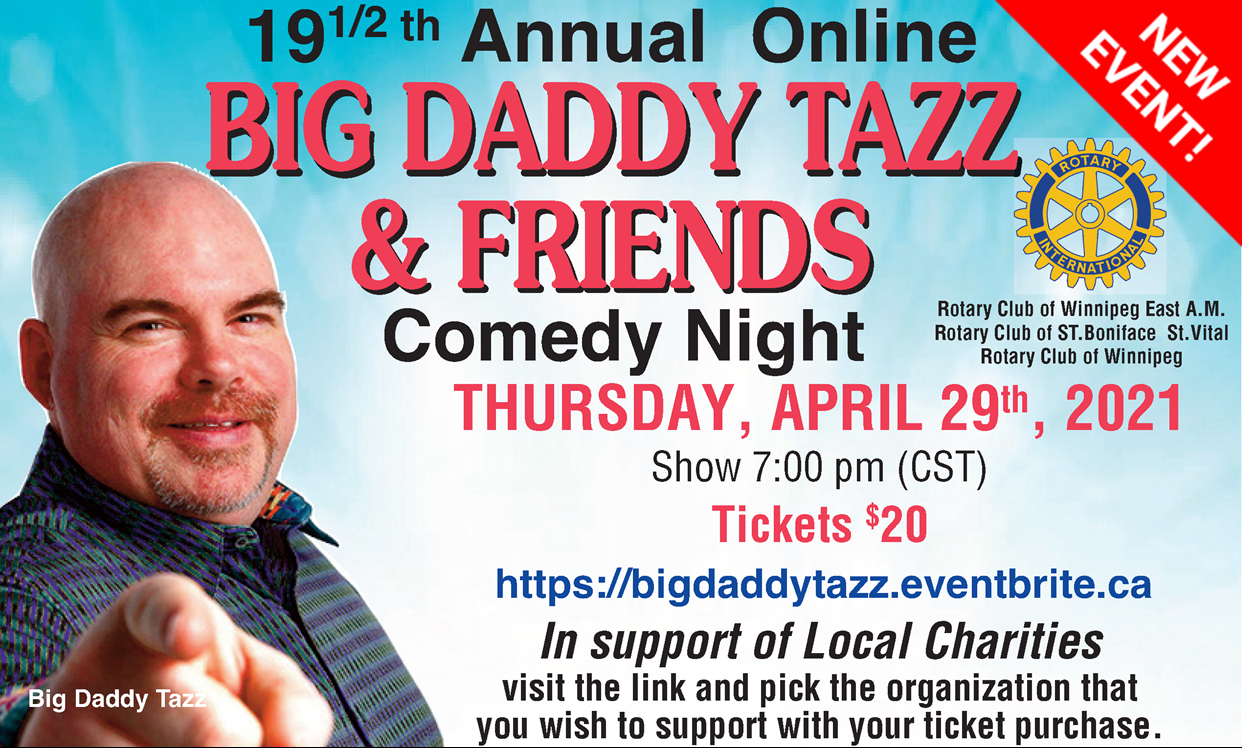 25 Mar

Big Daddy Tazz and Friends Annual Comedy Night

This event is being hosted by the East AM Rotary club and its various partner organizations in Winnipeg in support of Variety Manitoba and other worthy causes. It will take place online/virtually. The link to the online performance will be shared with you 24 hours prior to the event.

Please feel free to choose your ticket in support of Variety, the Children's Charity of Manitoba!

This year's Comedians are:
Tim Nutt tells jokes, well, more like funny stories with jokes and has been getting away with it for just over 20 years. Tim pushes comedy to explosive new levels and dimensions. He expertly explores the hilarity in everyday life, delighting you with his bizarre concepts and twisted viewpoints, combining one-liners and crafty storytelling.
Pete Zedlacher, A fan favourite within both the alternative and mainstream comedy club scene, Zedlacher has crossed the country from coast to coast to coast, every province, every territory, 15 US states and 19 countries worldwide.He is most proud of his "tours of duty" entertaining the Canadian Forces serving over- seas and has performed for the troops in England, Egypt, Israel, The United Arab Emirates, Qatar, Holland, Germany, Greece, the Persian Gulf, the Arctic Circle and three tours in Afghanistan.
Rob Pue, after the highly successful release of his first official Comedy Album #PUEGILIST – Debuting at #1 on the iTunes Comedy Charts – Rob Pue takes his show on the road and coast to coast in Canada. Rob has appeared on Comedy Central, MTV's Punk'd, has his own Comedy Now special on The Comedy Network and has most recently appeared on Amazon Prime's hit show The Boys. He's also a regular on CBC's Debaters, performed multiple times at Just For Laughs, the Winnipeg Comedy Festival, Halifax Comedy Festival and was the winner of the prestigious San Francisco Comedy Competition
Jenn Labelle, Since debuting in 2012 Jenn Labelle has graced the stage in various clubs across Canada, including CBC's televised Halifax Comedy Festival and radio's Laugh Out Loud from the Icebreakers Comedy Festival. Taking home the grand prize in both the 2017 Ottawa Yuk Yuk's Winter Wish competition, as well as Crackup the Capital, Jenn has quickly become a comedian to watch out for. While poking fun at the joys of teaching (but mostly the struggles), everyday life, and the trials and mishaps of relationships, she is a highly relatable and dynamic must see comedian
Larke Miller is a Vancouver based stand-up comedian, actress and filmmaker. She began her career as an actress in her teens. Her love of comedy and interest in writing led her to Los Angeles where she was accepted into the Groundlings program. It was in Los Angeles, that she began performing stand-up comedy. Larke's soft spoken and feminine style belies her provocative observational humour. Larke's writing is satirical and ironic. Early on in Larke's stand-up career, she was selected as a Los Angeles finalist on NBC's LAST COMIC STANDING. This led to her comedy being seen on THE TONIGHT SHOW on NBC.